You are invited to explore our exciting range of products…
From indulgent handmade chocolates and perfectly-paired beverages, to delicious coffees and iced beverages, you're sure to find something to delight.
Don't worry, there is something for the kids too! Our famous deconstructed hot chocolates are delicious, and perfect to warm you up on cold winter days; and in summer, you can cool down with our ice-cream chocolate drinks.
Our Chocolates
Dave, our chocolatier, strives to bring you many traditional favourites as well as some unusual cutting-edge flavours to tease your palate. You can indulge on-site or take home a box to enjoy at home.
The European couverture pistoles which are used to make the handmade chocolates are also available for sale in bags of 100g.  Select from the foundation range of white, milk, 55% dark, 74% dark, or from our specialty series consisting of caramel, orange, ruby, gold, and french toffee.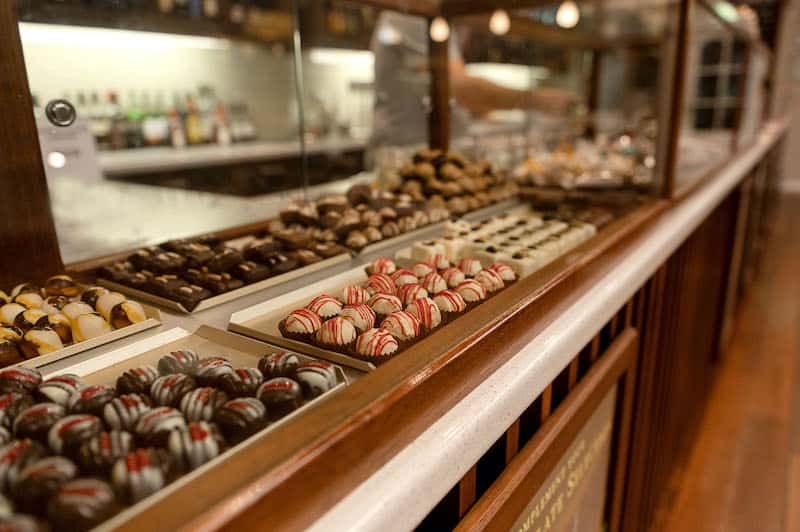 Our Selection of Beverages…
Alcoholic Beverages
Make your chocolate choice, then select a pairing from our extensive range of liqueurs, ports, local wines, and beers.  Or let us do the work for you and select one of our tasting paddles where we will pair the chocolate based on your choice of beverage.
Hot Chocolate
Our innovative deconstructed Hot Chocolates are legendary, and made using the finest European couverture chocolate. Add a shot of extra flavour from our liqueur range to create a memorable tasting experience, or spice it up with infused chilli.
Ice-cream Beverages
Our decadent ice chocolate is served with chocolate ice-cream, chocolate sauce and chocolate shavings.  A chocolate lovers dream!  We also have ice-mocha and ice-coffee available.
Tea and Coffee
We offer the full range of espresso coffee including latte, macchiato, flat white, short black and long black, just to name a few.  All our coffees are made from fresh beans locally roasted by The Naked Bean Coffee Roasters.
Or sit back and enjoy a cup of tea.  Our tea is loose leaf from the WA family-owned Infused Tea Company.  Select your favourite from French Earl Grey, English Breakfast, Peppermint, and green.
Sultana Scones
Looking for something more substantial? Our home-baked sultana scones are served with Berry Farm jam and freshly whipped Chantilly cream.
Other
Our shop also stocks a range of chocolate sauces, relishes, chutneys, and jams – ideal for presents or to just to enjoy at home.
Ready to experience Denmark Chocolate Company for yourself?
Drop in when you are next in Denmark, we'd love to see you. If you have any questions or would like to book one of our special experiences, please get in touch.